In early November last year I did a keynote for PNC Bank at the Ocean Reef Club in Florida. I made reference in my keynote to the desire to make a motion picture on my story that the audience had just experienced. Following the keynote was a book signing of Journey of a Hope Merchant. An attendee asked for an autograph and inscription dedicated to her son who was an aspiring screen writer in Hollywood. This was to be his Christmas gift.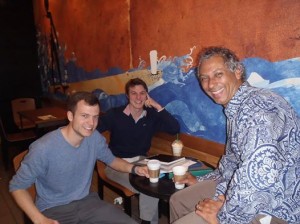 New years eve an email pops up. Travis Geiger had received his Christmas gift and read my book cover to cover. He then re-read it again. I quote from that email Travis sent: "The prevailing elements of adventure, adversity, history, heroism, and of course hope, make for a story that Hollywood not only would want but needs." We began a dialog with the dream of making a film together. He continues…"As an Eagle Scout and Sailor I was drawn in to your time on the open ocean. As a storyteller I was drawn to everything else."
A few weeks later Travis brought his writing partner Nick Ghizas into the conversation and I am impressed by these young men, hungry to create something fantastic with me. I had just watched the Robert Redford film, "All is lost" and was immensely disappointed by the story line. Redford may have attempted to rival Tom Hanks from "Castaway" and did a pretty good acting job, but the elements of "All is lost" was a very poor portrayal of a solo sailors adventure on the high seas. It was a waist of sailing footage and my two hours. All was lost and the movie going audience needs a great sailing adventure and all the elements of a great adventure film. Our dream was born. I wrote a version of the screen play and sent it to them.
In February I flew to Los Angeles for 3 hours to meet Travis and Nick. We met at a coffee shop in baggage of LAX airport. 30 years ago I flew to Los Angeles as a teenager with the dream of being a diver. I have returned having lived that dream and now to bring this story to the big screen.
Today I received the first draft outline of this movie. Our dream is growing and the journey has just begun. Follow us on Twitter, Facebook and here to watch our progress. Come hear a keynote and someday we will give you two amazing hours in the theater. But we will need your help as we cannot make this journey alone.