This is a video of Neal rounding Cape Horn.
Where it all began…
The 1992 OSTAR
Neal Petersen has been a solo racing sailor. He launched his racing yacht in 1990 and then entered the 1992 OSTAR from Plymouth, England to Newport, Rhode Island, USA where he finished to become the 4th South African to complete this event.
In 1993 he entered the Round Britain and Ireland Race, a two handed event with Mark Greasy as crew. The race started in Plymouth, went on to Cork, Ireland the to Lerwick in the Hebrides, Yarmouth and back to Plymouth. The two had a respectable showing in class. Mark went on to become captain of the mega yacht "Lone Ranger".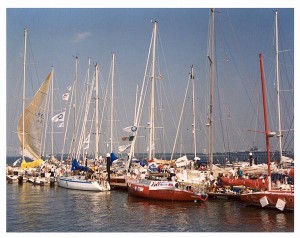 1994 found Neal competing in the feeder race for the solo around the world yacht race from Falmouth, England to Charleston, South Carolina, USA. He had several issues leading into the race and during the race, including sinking due to a fitting on a bilge pump over board connection breaking, and a chain plate tearing, but was able to finish.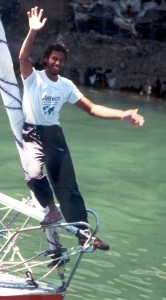 Later that year he competed in the 1994-95 BOC Challenge, the 27,000 mile solo race around the world. On the second leg he was dismasted and retired, but did return to join the fleet unofficially for the last leg from Punta del Este, Uruguay back to Charleston.
During leg 3, Neal's hero and mentor, Harry Mitchell was killed in severe weather.In 1996 Neal once more entered the OSTAR race. Leading his class, mid way across the Atlantic, Neal was hit by a Russian freighter and spent 15 days racing and pumping to keep his vessel afloat. He finished 3th in his class.
Finally in 1998 he returned to the solo around the world racing scene. Here are the two log books of his daily trials and tribulations leading into his 5th place finish in his class.
Here are the links to Neal's sailing:
The 1998-99 solo around the world yacht race:

Log book 1 – pre-race and leg 1 of 1998-99 race to Cape Town

Log book 2 – leg 2 to Auckland, leg 3 to Punta, leg 4 to Charleston
General:
Our involvement in Search and Rescue in the DR
Articles and more…