A quick look at where to go, who to deal with based on our experiences in Trinidad.
The marine industry is a funny business. Owning a boat is a costly affair that grows more and more as the boat ages. It is a never ending process of spending money. The fast way to have fun with boats is if one starts with a sizable amount of funds, and loves watching it dwindle very much like holding water in ones palms. We beat ourselves up sailing, and then do it with all the work that is required to beat ourselves up again. Laying upside down in the engine room smelling leaky oil that sloshes in the build wanting to make us seasick, or up the mast rolling around like we are flying with the birds, 70 foot above the deck held up there on webbing to a thin piece of line we call the mast halyard. And we keep doing it year over year, calling it fun. Fun it can be. There are the vast periods of boredom sparkled with brief periods of sheer adrenalin, caused by either great joyous moments, or just sheer terror. And then it comes to that tedious maintenance plan.
This year to ease the maintenance plan, we sailed down to Power Boats, http://www.powerboats.co.tt a ship yard in Trinidad run by a fellow catamaran owner, sailor and really a great yard manager, Don.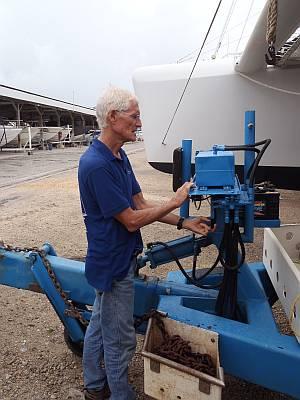 Our haul out was done on a wonderful trailer system that reduced the stress of lifting in a travel lift. Instead of hanging the boat that require nerves of steel, the boat rides onto the trailer, and is gently lifted out of the water as if it is sitting in the palm of one's hand. Don pulls most of the big cats out himself with a very competent group of 5 people.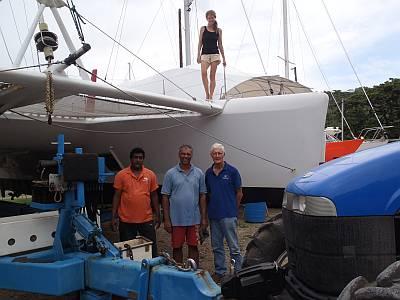 Such care was done in the process, that I am ready to do it again. No fuss, no stress for either boat or crew. Our catamaran was right on the brink of the largest size they can take due to our beam. Power Boats has Wi-Fi, clean and plentiful bathrooms, a good place to do laundry, a roti shack on site that has good and inexpensive food, but most important are their exceptional staff. Some have worked in the yard for nearly 20 years. Everyone was willing to help, had a smile and most of all, was competent at what they needed to do to create an experience that we have not seen in any other boat yard. This is an example of great leadership who invest in their team, and a model of management, employees to clients that other organizations can learn a lot from.
We faced challenges and the staff was there to alleviate our pain. Outside contractors support the yard team. We met Jonas from Sweden who has Trinidad Rigging. Facing a broken strand in our forestay, Jonas delivered a replacement forestay the following day, ahead of schedule. He had a great selection of spares that were not easy to come by, then after we launched and when we were tuning the rig, loan us a tool to make my life easier.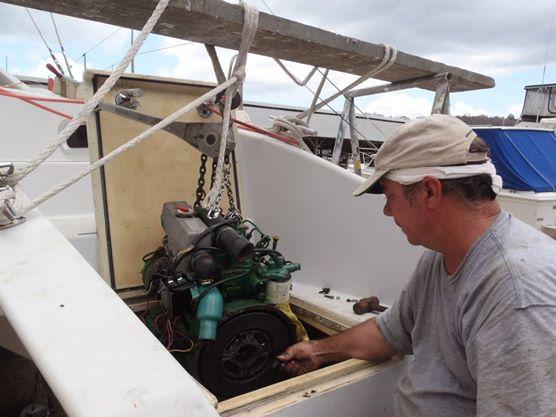 Ken, who has worked on my boats for nearly 20 years, flew down to help resolve issues as always. He was up to his eyeballs in work, and our list kept growing. Each time we took an item off, I put 2 sometimes 3 new ones onto the list. Eventually we just ran out of time and had to get help in. When one laborer failed to show, Don found some folks for me at short notice to keep us on track. Then we discovered additional issues with the wiring of my engines and once again Don organized Jim from Sure Power to come to my rescue. The deeper we delved into the wiring issues, the uglier it got, but Jim and his assistant was always up-beat that it could be resolved, and finally it was. There was one thing that was not perfect as we were wrapping up the job and I had already paid Jim, when out the tool bag came, wires were cut off and a plug removed and a new system was put in. It would have been just that easy for Jim to have tie wrapped the offending issue and let me sail off and deal with it down the road. But that is not how he works. It had to be perfect.
There are still some good people in the marine industry and if you want to go down to Trinidad to get work done, these are the people to deal with.